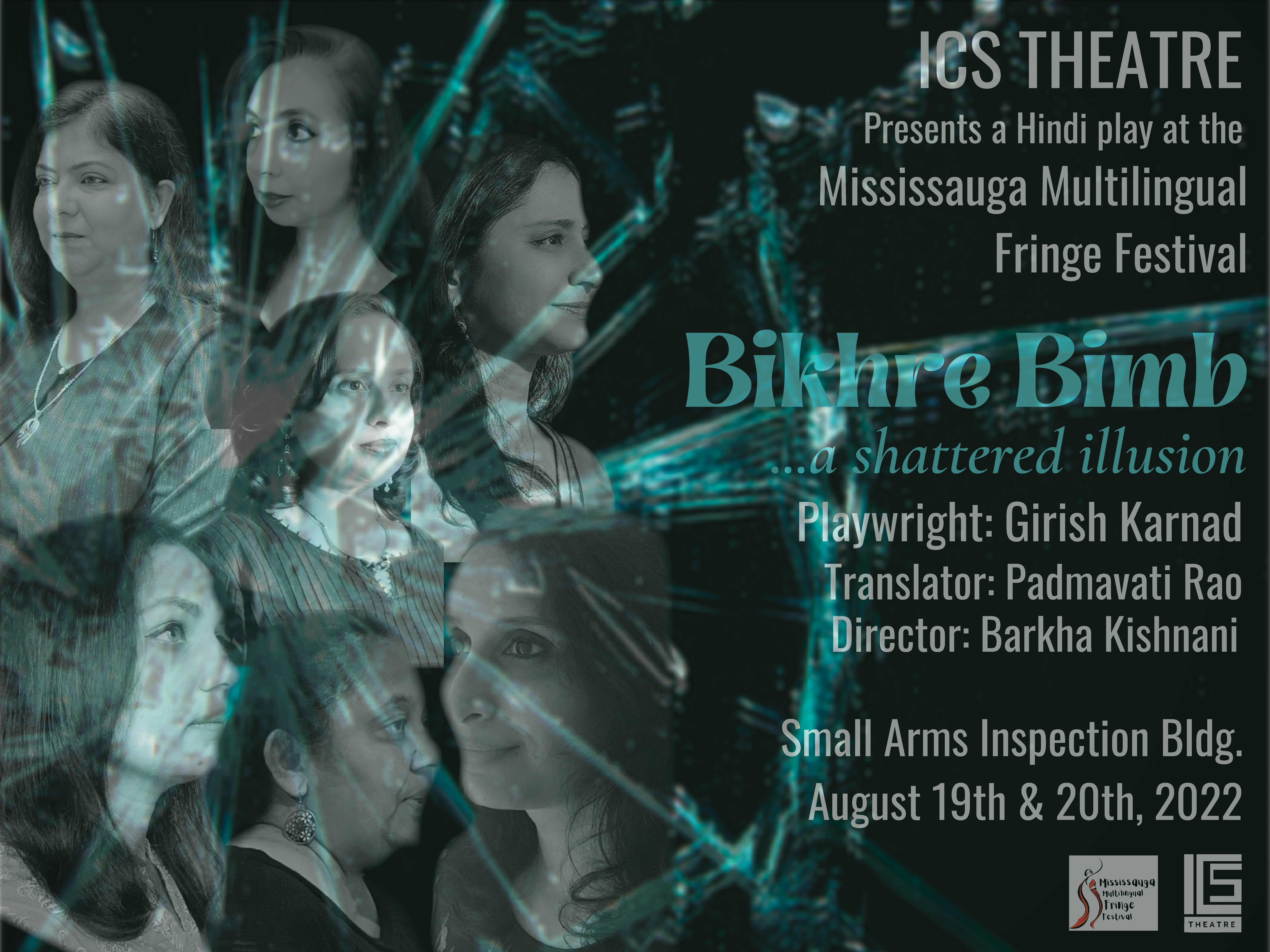 Bikhre Bimb is a Hindi translation of the award-winning Kannada play, Odakalu Bimb by Girish Karnad. The play reveals the story of an unsuccessful Kannada writer who gains international recognition for her debut novel in English.  A gripping plot that reflects uncomfortable relationships and human failings, Bikhre Bimb will leave the audience captivated.
The performance is in Hindi and is suitable for all ages.
Producer : ICS Theatre
Director : Barkha Kishnani
Cast :
Madhuwanti Bhat (Manjula Nayak)

Rupali Gaitonde (Manjula Nayak)

Priya N. Iyer (Bimb)

Anahita Mantri (Dancer)

Kinnary Patel (Bimb)

Manasi Tamboli (Dancer/TV announcer)
Crew :
Sri Alathur (Set Design)

Vikram Kumar (Music)

Aditya Datey (Tabla)

| | |
| --- | --- |
| 19th. Aug., 2022 - Friday | 8:00 PM |
| 20th. Aug., 2022 - Saturday | 12 Noon |

Ticketing Link :
https://MMFF2022Tickets.eventbrite.ca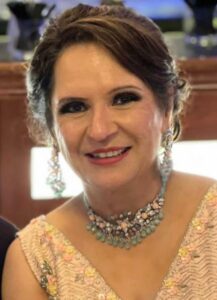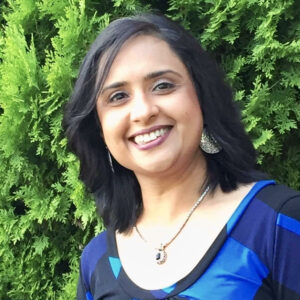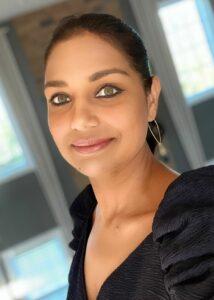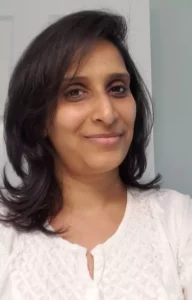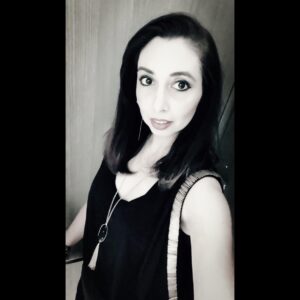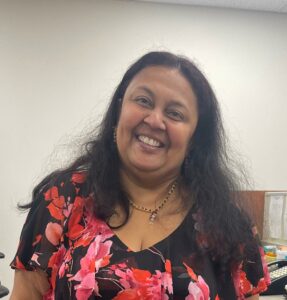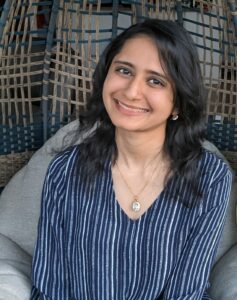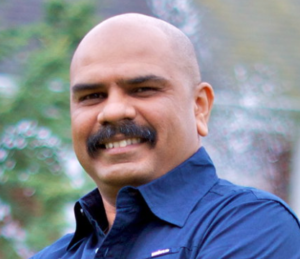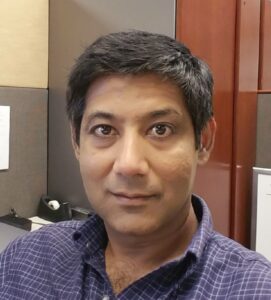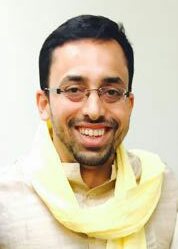 Barkha Kishnani, a realtor by profession, has a passion for the arts. She is the past-president of the Indian Cultural Society of East Brunswick (ICS) and has been with the organization since 2003. In 2014, Barkha Kishnani, along with the support of the ICS committee and a dedicated team, founded ICS Theatre.
Barkha has experience in all aspects of theatre, including coordinating theatre festivals, managing sound and light, and working as a stage manager and assistant director in several productions. She has worked with several esteemed directors such as Ms. Usha Ganguly, Dr. Mohan Agashe, Dr. Farley Richmond, and Mr. Mahesh Dattani.
Having the acumen to visualize a show from its conception to its final staging, Barkha has finally taken the plunge into directing.
Madhuwanti is a theater enthusiast and has performed in several plays at various prestigious festivals. She has also attended ICS Theatre workshops and play readings conducted by Dr. Farley Richmond and Mahesh Dattani. Her acting credits with ICS Theatre include God of Carnage and House of Bernarda Alba directed by Dr. Farley Richmond.
Madhuwanti has also emceed shows and has also acted in movies including a short film Dubhang that won best debut film award at Nasik film festival and a Marathi film A Dot Com Mom directed by Dr. Meena Nerurkar.
Madhuwanti recently won first prize in a monologue competition organized by Dramatech, USA for North American participants.
Rupali Gaitonde has been an ardent theatre and cinema fan since her school days. She followed her passion for theatre in college under directors like Nishikant Kamat, Sanjay Narvekar and Kedar Shinde.
Rupali performed in ICS Theatre productions of The Throne with No Caste and Raktbeej. She was last seen on stage at PMM in Secrets directed by Yogesh Date.
Priya N. Iyer has performed in ICST's virtual dramatized reading Raktbeej, and in several Reader's Theatre with the group, Baithak. Priya has written and directed a virtual play The Throne with No Caste and has worked backstage on multiple ICST productions. She has also conducted several musical and poetry events.
Priya dabbles in English and Hindi poetry, and short fiction and essays, and has published her poems and short stories on online platforms. Priya lives in New Jersey, USA, and is a professor of economics at a state university.
Anahita is an architect by profession, and a dancer and actor at heart. Her theater experience started with Satrangi school of fusion where she performed the role of Zarine in 2016 and Meera in 2018 at their annual musical Manmohini.
She then performed Amelia in ICS Theatre's production of House of Bernarda Alba. Anahita has been a regular participant in readings organized by ICS Theatre, working with esteemed directors such as Dr. Farley Richmond and Mahesh Dattani. In the fall of 2020 she was cast in the role of Annette in ICS Theatre's production of God of Carnage by Yasmina Reza.
Kinnary Patel has done stage directions for ICST Productions, Raktbeej and Defying Gravity. She writes shayari (Urdu Poetry), is an avid reader and loves fiction.
She lives in Princeton Jct and is a pharmacist at Clover Pharmacy and an immunization specialist.
Manasi Tamboli is a passionate thespian, an inveterate linguaphile, a trained Kathak dancer and Hindustani classical singer. As part of a theater group in Mumbai, she has performed in one-act plays, and dabbled in different  technical elements of theater, from script writing to backstage.
While in India, she won a prize for her scriptwriting in Maharashtra state-level drama (Rajya Natya) competition. A stage performer since childhood, Manasi has also done anchoring and emceeing in college and corporate. She was last seen in 2 short plays performed in the Onejari Theater Festival in New Jersey.
While her software engineering profession helps her pay the bills, the theater bug in her is the true source of energy and purpose that she aspires to keep alive.
Sri Alathur has been involved in the performing arts, both acting and production, since his school days. He started his journey with ICS Theatre with Romance in the Garden directed by Dr. Farley Richmond. Sri is the production designer for ICS Theatre and a few independent films as well. He is an ardent Star Wars fan, who fervently studies movie special-effects as he believes they showcase the magic of creativity and technology
Vikram is a self-taught musician in his spare time. He comes from an artistic family and plays numerous instruments. Apart from singing, he also writes and records his own music. He has been involved with ICS Theatre for over 4 years composing music for and playing live on stage in various productions.
Vikram's ICS Theatre credits include Rakt Phera, Chak De Chekhov and Park.
Aditya Datey
They all said "Poor Mrs.Datey, her son is such a good for nothing", "Get him into a job soon. Maybe delivering milk packets". And look at me now! Featuring prominently on page 3 (or is it 7?) of the ICS Theater booklet. Contributing with music, acting, script and song writing for productions such as Masrayana, The Priest & The Prostitute, Chak De Chekhov, Rakt Phera, Chekhov Express, Do the Needful. Hobnobbing with awesome directors like Mahesh Dattani & Dr Farley Richmond. Take that Agarwal aunty! What did your son do?